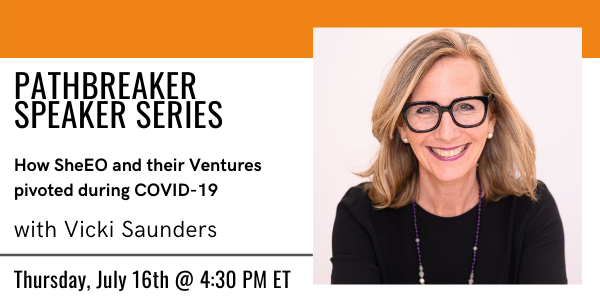 Vicki Saunders: How SheEO and their Ventures pivoted during COVID-19
Vicki Saunders is an advisor to the next generation of change makers and leading advocate for entrepreneurship as a way of creating positive transformation in the world. Vicki is Founder of #radical generosity and SheEO, a global community of radically generous women supporting women-led Ventures working on the World's To Do List. Vicki has co-founded and run ventures in Europe, Toronto and Silicon Valley and taken a company public on the Toronto Stock Exchange. Vicki was named one of the 100 most influential leaders of 2015 from "EBW – Empowering A Billion Women", In 2001, Vicki was selected as a Global Leader for Tomorrow by the World Economic Forum.
---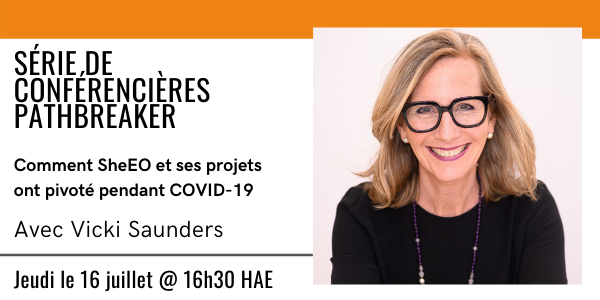 Vicki Saunders : Comment SheEO et ses entreprises ont pivoté pendant COVID-19
Vicki Saunders est conseillère auprès de la prochaine génération de pionnières du changement et militante de premier plan pour l'entrepreneuriat comme moyen de créer une transformation positive dans le monde. Vicki est la fondatrice de #radical generosity et de SheEO, une communauté mondiale de femmes radicalement généreuses qui soutiennent des entreprises dirigées par des femmes et figurant sur la liste des choses à faire dans le monde. Vicki a cofondé et dirigé des entreprises en Europe, à Toronto et dans la Silicon Valley, et a fait entrer une société à la bourse de Toronto. Vicki a été nommée parmi les 100 leaders les plus influentielles de 2015 par "EBW - Empowering A Billion Women". En 2001, Vicki a été sélectionnée comme leader mondiale de demain par le Forum économique mondial.