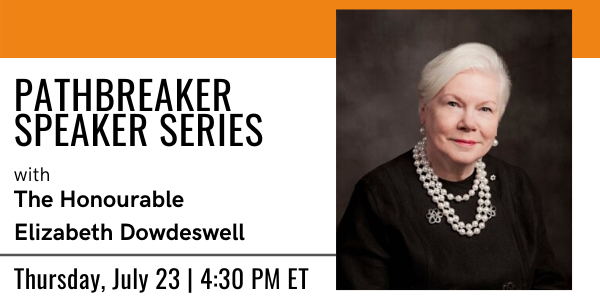 Her Honour will shared personal observations about the role of a vice regal during a time of crisis. Opportunity and obligation during COVID19.
The Honourable Elizabeth Dowdeswell is the 29th Lieutenant Governor of Ontario. As the representative of Her Majesty The Queen, Ms. Dowdeswell carries out constitutional and ceremonial duties and facilitates healthy citizen and community engagement.
Ms. Dowdeswell has served the public interest at all orders of government and in the private sector. She contributed globally as Under-Secretary-General of the United Nations and Executive Director of the United Nations Environment Programme. In Canada her diverse portfolios ranged from education and culture to environment and the management of complex public enquiries. She was the founding president and CEO of the Nuclear Waste Management Organization, and later the president and CEO of the Council of Canadian Academies. She has served on the boards of Canadian and international corporate and non-profit organizations.
Since taking office in late 2014, Ms. Dowdeswell has challenged Ontarians to think deeply about their role not just as residents of a province, but as global citizens. Building resilience and sustainability through inclusive economic prosperity, environmental stewardship, and social cohesion, as well as safeguarding democracy, has been the focus of her mandate.
Ms. Dowdeswell has a bachelor of science in home economics and teaching certificate from the University of Saskatchewan and a master of science in behavioural sciences from Utah State University. She is an officer of the Order of Canada, a member of the Order of Ontario, and the recipient of numerous distinctions and fellowships. She holds 11 honorary doctorates.
---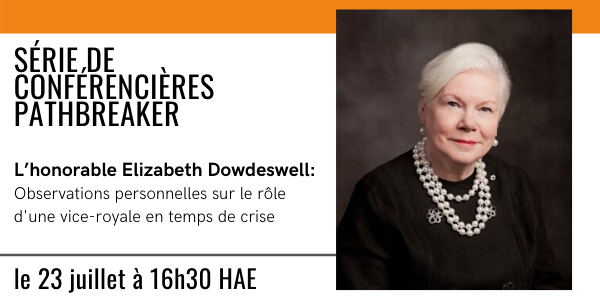 Son Honneur fera part de ses observations personnelles sur le rôle d'une vice-royale en temps de crise. Opportunité et obligation pendant COVID-19.
L'honorable Elizabeth Dowdeswell, en tant que représentante de Sa Majesté la Reine, exerce des fonctions constitutionnelles et cérémonielles, et facilite un engagement sain des citoyens et des communautés.
Madame Dowdeswell a servi l'intérêt public à tous les niveaux du gouvernement et dans le secteur privé. Elle a apporté sa contribution au niveau mondial en tant que secrétaire générale adjointe des Nations-Unies et directrice exécutive du Programme des Nations-Unies pour l'environnement. Au Canada, ses divers dossiers allaient de l'éducation et de la culture à l'environnement et à la gestion d'enquêtes publiques complexes. Elle a été la présidente fondatrice et directrice générale de la Société de gestion des déchets nucléaires, puis la présidente et directrice générale du Conseil des académies canadiennes. Elle a siégé au conseil d'administration d'entreprises et d'organisations à but non lucratif canadiennes et internationales.
Depuis son entrée en fonction fin 2014, Mme Dowdeswell a mis les Ontariens au défi de réfléchir profondément à leur rôle, non seulement en tant que résidents d'une province, mais aussi en tant que citoyens du monde. Son mandat a consisté à renforcer la résilience et la durabilité par la prospérité économique, la gestion de l'environnement et la cohésion sociale, ainsi qu'à préserver la démocratie.