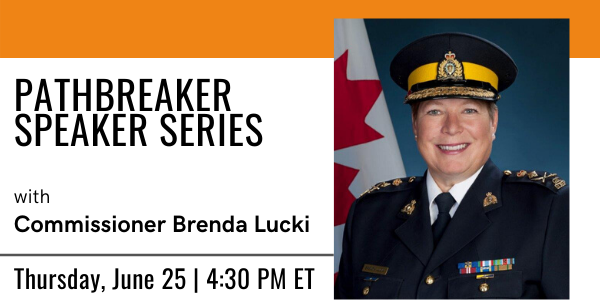 Brenda Lucki was born and raised in Edmonton, Alberta, and joined the RCMP in August 1986. During Commissioner Lucki's career, she has served in Quebec, Ontario, Manitoba, Alberta, Saskatchewan and at the RCMP Academy (Depot Division), as well as on international peacekeeping missions in the former Yugoslavia.
In 2016, she was named Commanding Officer of the RCMP Academy, and on March 9, 2018, she was announced as the RCMP's 24th Commissioner.
Commissioner Lucki completed a Bachelor of Arts in psychology and sociology at the University of Alberta in 1996. She also completed the Advanced Program in Management, Leadership and Strategy at the Asper School of Business at the University of Manitoba in 2012. She is married and has two step-daughters and three grandchildren.

DATE: Thursday, June 25 at 4:30 - 5:30 PM (ET)
REGISTRATION: CLICK HERE
PASSWORD (case-sensitive): Peace
---

Brenda Lucki est née et a grandi à Edmonton, Alberta, et s'est rejointe à la GRC en août 1986. Au cours de sa carrière, la commissaire Lucki a servi au Québec, en Ontario, au Manitoba, en Alberta, en Saskatchewan et à l'École de la GRC (Division Dépôt), ainsi que dans le cadre de missions internationales de maintien de la paix en ex-Yougoslavie.
En 2016, elle a été nommée Commandante de l'École de la GRC, et le 9 mars 2018, elle a été annoncée comme le 24ième Commissaire de la GRC.
La Commissaire Lucki a obtenu une licence en psychologie et sociologie à l'Université d'Alberta en 1996. Elle a également suivi le programme avancé en gestion, leadership et stratégie à l'Asper School of Business de l'Université du Manitoba en 2012. Elle est mariée et a deux belles-filles et trois petits-enfants.
Cliquez ici pour sa biographie complète
DATE: jeudi 25 juin de 16h30 à 17h30 (ET)
INSCRIPTION: CLIQUEZ ICI
MOT DE PASSE (tel quel): Peace