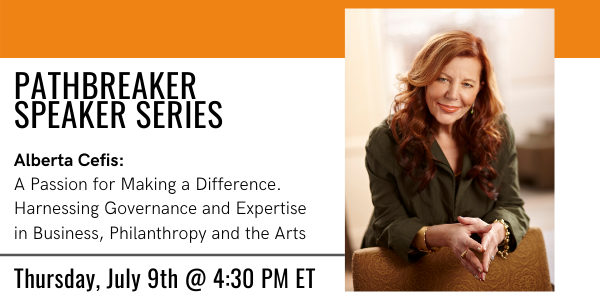 Alberta Cefis: A Passion for Making a Difference.
Harnessing Governance and Expertise in Business, Philanthropy and the Arts
IWF member Alberta Cefis has had an enormous impact on many organizations where she has volunteered her global business expertise, intellectual capital and passion for excellence. Watch the fireside conversation with host Pauline Couture as she shares her secrets for an impactful life in which she brings her knowledge and her commitment to bear on the causes and organizations she supports.
Alberta Cefis' desire to make a difference has been key to her involvement in the not for profit sector and has led her to Chair Board and Board Committees of arts organizations such as Opera Atelier, the Shaw Festival and the National Theatre School. She has served as a Board Director over many years on private, association, profit and not for profit Boards. She is the President of Alcetor Inc., is a multilingual global leader and C-suite executive with extensive experience in the financial services arena. She has managed complex businesses worldwide across 58 countries with on the ground operations. She has served on numerous financial industry committees and forums across borders, and has been frequently interviewed and written on topics of interest. She is the recipient of numerous awards, including being repeatedly named to The 25 Most Powerful Women in Banking, inducted into "The Hall of Fame" of Canada's Top 100 Most Powerful Women, named Canadian Woman Leader of the Year, and recipient of the order Commendatore dell'Ordine della Stella d'Italia.
---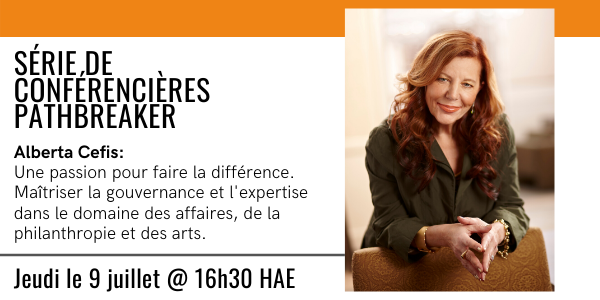 Alberta Cefis : Une passion pour faire la différence. Maîtriser la gouvernance et l'expertise dans le domaine des affaires, de la philanthropie et des arts
Alberta Cefis, membre de l'IWF, a eu un impact énorme sur de nombreuses organisations où elle a mis à profit son expertise en affaires internationales, son capital intellectuel et sa passion pour l'excellence. Joignez-vous à nous pour une conversation au coin du feu avec l'animatrice Pauline Couture, qui partagera avec nous ses secrets pour une vie pleine d'impact dans laquelle elle apportera ses connaissances et son engagement pour les causes et les organisations qu'elle soutient.
Le désir d'Alberta Cefis de faire une différence a été la clé de son engagement dans le secteur à but non lucratif et l'a amenée à présider des conseils d'administration et des comités du conseil d'administration d'organisations artistiques telles que l'Opera Atelier, le Shaw Festival et l'École nationale de théâtre. Elle a été membre du conseil d'administration pendant de nombreuses années dans des conseils d'administration privés, associatifs, à but lucratif et non lucratif. Elle est présidente d'Alcetor Inc, est une leader mondiale multilingue et un cadre supérieur de niveau C avec une vaste expérience dans le domaine des services financiers. Elle a géré des entreprises complexes dans 58 pays du monde entier, avec des opérations sur le terrain. Elle a siégé à de nombreux comités et forums du secteur financier au-delà des frontières, et a été fréquemment interviewée et a écrit sur des sujets d'intérêt. Elle a reçu de nombreuses récompenses, notamment une nomination répétée dans le classement des 25 femmes les plus puissantes du secteur bancaire, une intronisation au Temple de la renommée des 100 femmes les plus puissantes du Canada, le titre de "Canadian Woman Leader of the Year" et l'ordre de Commendatore dell'Ordine della Stella d'Italia.
Nous sommes ravies du succès de la série Pathbreaker et nous avons une liste complète de membres et de boursières de l'IWFC à présenter dans les semaines à venir. Je vous invite à nous faire part de vos commentaires et suggestions concernant cette série ainsi que de toute autre idée que vous pourriez avoir pour rendre notre Forum encore plus fort en cette période difficile.