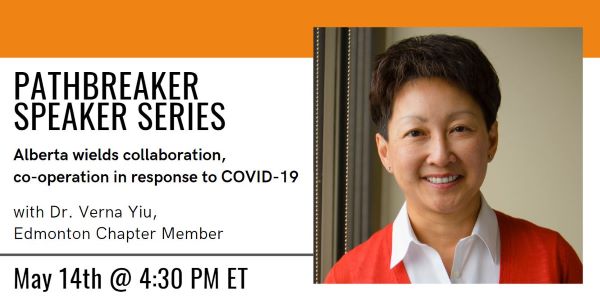 The world remains in the early days of a global pandemic and much remains unknown about COVID-19 and what the months ahead will hold. How can heath systems respond to this new and dangerous threat to public health? Dr. Verna Yiu, President and CEO of Alberta Health Services, talks about how Canada's largest province-wide health system is using its integrated model and its partnerships to protect Albertans, slow the spread of the virus, and keep healthcare workers safe. In her presentation, Dr. Yiu will shine a spotlight on the typically behind-the-scenes work of public health laboratories and supply chain management teams, walk her audience through key moments of the province's response, and underscore how AHS is working with partners in industry, academia, philanthropy and government to help the province manage the biggest public health emergency of our lifetime.
Dr. Verna Yiu is an accomplished leader in the academic and healthcare sectors and has been involved in public sector governance for over two decades. The Alberta Health Services (AHS) is Canada's first and largest province-wide health system providing integrated care to more than 4.2 million Albertans. AHS has been recognized as a national and international leader in many clinical and administrative areas including: being named as one of the top 5 most integrated healthcare systems out of 40 countries, having one of the top 3 best health supply chain management systems in the world, and most recently awarded as one of Canada's Top 100 Employers for the second consecutive year.
To read Dr. Yiu's full bio CLICK HERE
We are excited by the Pathbreaker Series and have a full roster of stellar IWFC members and Fellows to profile over the coming weeks. I invite all of your feedback and suggestions regarding this Series and as well any other ideas you may have for making our Forum even stronger during this time.

---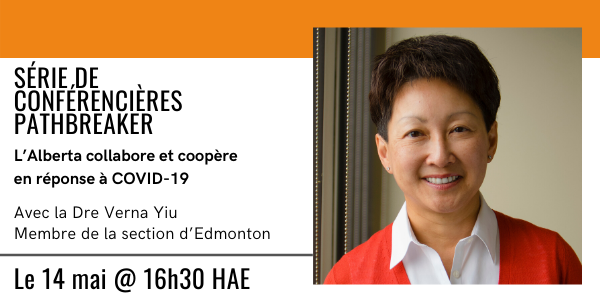 Le monde en est encore aux premiers jours d'une pandémie mondiale et on ignore encore beaucoup de choses sur COVID-19 et sur ce que les mois à venir nous réservent. Comment les systèmes de santé peuvent-ils répondre à cette nouvelle et dangereuse menace pour la santé publique? La Dre Verna Yiu, présidente et directrice générale des services de santé de l'Alberta, explique comment le plus grand système de santé provincial du Canada utilise son modèle intégré et ses partenariats pour protéger les Albertains, ralentir la propagation du virus et assurer la sécurité des travailleurs de la santé. Dans sa présentation, la Dre Yiu mettra en lumière le travail généralement effectué en coulisses par les laboratoires de santé publique et les équipes de gestion de la chaîne d'approvisionnement, guidera son auditoire à travers les moments clés de la réponse de la province et soulignera la façon dont l'AHS travaille avec des partenaires de l'industrie, du monde universitaire, du secteur philanthropique et du gouvernement pour aider la province à gérer la plus grande urgence de santé publique de notre vie.
La Dre Verna Yiu est une dirigeante accomplie dans les secteurs universitaire et de la santé et participe à la gouvernance du secteur public depuis plus de deux décennies. L'Alberta Health Services (AHS) est le premier et le plus grand système de santé provincial du Canada, qui fournit des soins intégrés à plus de 4,2 millions d'Albertains. L'AHS a été reconnu comme un leader national et international dans de nombreux domaines cliniques et administratifs, notamment en se classant parmi les cinq premiers systèmes de santé les plus intégrés sur 40 pays, en ayant l'un des trois meilleurs systèmes de gestion de la chaîne d'approvisionnement en santé au monde et, plus récemment, en se classant parmi les 100 meilleurs employeurs du Canada pour la deuxième année consécutive.
Pour lire la biographie complète de la Dre Yiu, CLIQUEZ ICI
Nous sommes enthousiasmées par la série Pathbreaker et nous avons une liste complète de membres et de boursières de l'IWFC à présenter dans les semaines à venir. Je vous invite à nous faire part de vos commentaires et suggestions concernant cette série ainsi que de toute autre idée que vous pourriez avoir pour rendre notre Forum encore plus fort pendant cette période.