Wednesday, June 10, 2020
Moving from Words to Action
Dear members,
The events of the past few weeks have prompted reflection by all of us as individuals, as citizens and as IWF members. I believe IWFC Canada is compelled to take action to support the movement for racial justice sparked in the US and now rightfully expanding globally.
At IWF, equal rights are at the core of our beliefs and mission, and while rooted in women's leadership, the principle extends to all. Indeed, the new IWF Canada strategic pillars, resulting from the 2019 member survey feedback and announced in December, place a priority on increasing our Forum's focus on diversity and inclusion. This means giving more space to women's voices of all backgrounds, sectors, ages, orientations and ethnicities. We are not fulfilling our mission if we are not inclusive of all senior Canadian women leaders. This is why becoming a more diverse organization is key.
Now, we need to accelerate our pace.
This is an issue that is long overdue for us to address and we must be committed to a Canadian Forum that not only welcomes all women leaders but represents all women leaders.
Words have been necessary to raise awareness of this important issue but now they must be followed by action. What can we do in the short term?
Participate in our current consultation process on how to make IWF Canada more inclusive and diverse by contacting member Shelley Fisher at shelleybfisher@gmail.com, who is coordinating recommendations to the Board. This consultation is one part of our Forum strategic planning process announced in December, 2019 led by Forum Vice President, Leslie Quinton. The recommendations will be presented to the Board in September 2020. The approved recommendations will then be executed.

Proactively seek out and nurture our relationships with women leaders from the Black, Indigenous and People of Colour (BIPOC) communities and others who have been marginalized, and invite those who might be interested in becoming members of IWFC. If not, why not? What would we need to do to be more welcoming?

Educate ourselves, as Chapters and individuals, on the struggles of these women through dedicated programming focusing on the Canadian historical context and member and external individuals' lived experience.

Read books and watch films by these women that highlight their personal experiences.

Support or donate to causes supporting human rights, diversity and anti-racism in particular those around the Black Lives Matter Movement and for Indigenous people.

Reach out to your MP, MLA, MPP, MNA as to what steps are being taken to address anti-black racism, systemic discrimination, etc. Make it your business to hold our government accountable.
Together, this is an ongoing conversation and at times it will be challenging. We need to listen first rather than rush to action or conclusions. As we all know meaningful, sustainable outcomes are never fast nor easy. We are all human and have inherent and unconscious biases. We have all been brought up in certain cultural acceptances and we need to become more aware of them.
I know that many of you share this view of our future based on the 2019 Forum member research and one can only be compelled by recent events to reflection and action. As always thank you for your ongoing support. Please feel free to contact me directly with any observations, feedback or ideas regarding our commitment to inclusion thereby ensuring our Forum continues to thrive.
With best regards,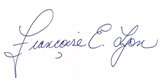 Françoise Lyon
President, IWF Canada
On behalf of the IWF Canada Board of Directors
---
Mercredi le 10 juin 2020
Passer de la parole aux actes
Chères membres,
Les événements de ces dernières semaines ont suscité une réflexion de notre part à toutes, en tant qu'individus, citoyennes et membres de l'IWF. Je crois que l'IWFC Canada est obligée de prendre des mesures pour soutenir le mouvement pour la justice raciale qui a été lancé aux États-Unis et qui s'étend maintenant à juste titre dans le monde entier.
À l'IWF, l'égalité des droits est au cœur de nos croyances et de notre mission, et bien qu'il soit ancré dans le leadership des femmes, le principe s'étend à tous. En effet, les nouveaux piliers stratégiques de l'IWF Canada, émanant des résultats de l'enquête auprès des membres de 2019 et annoncés en décembre, accordent la priorité à l'accroissement de l'attention portée par notre Forum à la diversité et à l'inclusion. Cela signifie qu'il faut donner plus de place aux voix des femmes de tous les milieux, secteurs, âges, orientations et ethnies. Nous ne remplissons pas notre mission si nous n'incluons pas toutes les femmes dirigeantes du Canada. C'est pourquoi il est essentiel de devenir une organisation plus diversifiée.
Nous devons maintenant accélérer notre rythme.
C'est une question qu'il est grand temps de régler et nous devons nous engager à créer un forum canadien qui non seulement accueille toutes les femmes dirigeantes, mais qui les représente toutes.
Les mots ont été nécessaires pour sensibiliser à cette importante question, mais ils doivent maintenant être suivis d'actions. Que pouvons-nous faire à court terme?
Participer à notre processus de consultation actuel sur la manière de rendre l'IWF Canada plus inclusive et plus diversifiée en contactant la membre Shelley Fisher à shelleybfisher@gmail.com, qui coordonne les recommandations au Conseil d'administration. Cette consultation fait partie du processus de planification stratégique du Forum annoncé en décembre 2019 et dirigé par la vice-présidente du Forum, Leslie Quinton. Les recommandations seront présentées au Conseil d'administration en septembre 2020. Les recommandations approuvées seront ensuite mises en œuvre.

Rechercher et entretenir de manière proactive nos relations avec les femmes leaders des communautés noires, indigènes et de couleur (BIPOC) et d'autres qui ont été marginalisées, et inviter celles qui pourraient être intéressées à devenir membres de l'IWFC. Sinon, pourquoi pas ? Que devrions-nous faire pour être plus accueillantes?

Nous éduquer, en tant que sections et individus, sur les luttes de ces femmes par le biais d'une programmation dédiée au contexte historique canadien et à l'expérience vécue des membres et des individus extérieures.

Lire des livres et regarder des films produits par ces femmes qui mettent en lumière leurs expériences personnelles.

Soutenir ou faire des dons à des causes qui soutiennent les droits de la personne, la diversité et la lutte contre le racisme, en particulier celles qui entourent le movement Black Lives Matter et les peuples autochtones.

Demander à votre député fédéral, provincial ou territorial quelles sont les mesures prises pour lutter contre le racisme, la discrimination systémique, etc. à l'égard des Noirs. Faites en sorte que notre gouvernement soit tenu responsable.
Ensemble, c'est une conversation permanente et, parfois, elle sera difficile. Nous devons d'abord écouter plutôt que de nous précipiter vers des actions ou des conclusions. Comme nous le savons toutes, des résultats significatifs et durables ne sont jamais rapides ni faciles. Nous sommes toutes humaines et avons des préjugés inhérents et inconscients. Nous avons toutes été élevées dans certaines acceptions culturelles et nous devons en prendre davantage conscience.
Je sais que beaucoup d'entre vous partagent cette vision de notre avenir basée sur les recherches des membres du Forum 2019 et nous ne pouvons qu'être contraintes par les événements récents à la réflexion et à l'action. Comme toujours, je vous remercie pour votre soutien continu. N'hésitez pas à me contacter directement pour toute observation, commentaire ou idée concernant notre engagement en faveur de l'inclusion, afin de garantir que notre Forum continue de prospérer.
Salutations distinguées,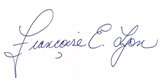 Françoise Lyon
Présidente, IWF Canada
Au nom du Conseil d'administration d'IWF Canada