Dear IWF Canada Members,
The Canadian Council of Business Leaders Against Anti-Black Systemic Racism is inviting senior leaders from the top 250 TSX companies, over 100 of the biggest private businesses in Canada, major banks, insurance companies, international companies who have a significant presence in Canada, and the largest asset managers and institutional investors in the nation, to take part in the inaugural BlackNorth Initiative Summit to be held virtually on July 20, 2020.
At the summit, leaders will be asked to sign a CEO Pledge and deliver a statement regarding what their organization will do to combat the issue and to make our society at large free from anti-Black systemic racism.
Corporate Canada was bold enough to take up the challenge to add gender diversity to Canadian boardrooms and executive suites by declaring policies, setting specific targets, and holding itself accountable and is now well on the way to reforming the system. Now it is time to do the same thing for Blacks.
To register, visit BlackNorth Initiative Summit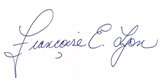 Françoise Lyon
President, IWF Canada
---
Chères membres de l'IWF Canada,
Le Conseil canadien des chefs d'entreprise contre le racisme systémique envers les Noirs invite les dirigeants des 250 plus grandes sociétés du TSX, plus de 100 des plus grandes entreprises privées du Canada, les grandes banques, les compagnies d'assurance, les sociétés internationales qui ont une présence importante au Canada et les plus grands gestionnaires d'actifs et investisseurs institutionnels du pays à participer au sommet inaugural de l'Initiative du Nord noir, qui se tiendra virtuellement le 20 juillet 2020.
Lors de ce sommet, les dirigeants seront invités à signer un engagement des PDG et à faire une déclaration sur ce que leur organisation fera pour lutter contre le problème et pour que notre société dans son ensemble soit exempte de racisme systémique anti-Noir.
Les entreprises canadiennes ont eu l'audace de relever le défi d'ajouter la diversité des sexes dans les salles de conseil d'administration et les bureaux des dirigeants canadiens en déclarant des politiques, en fixant des objectifs spécifiques et en se tenant responsables, et elles sont maintenant en bonne voie de réformer le système. Il est maintenant temps de faire la même chose pour les Noirs.
Pour vous inscrire, rendez-vous sur le site du sommet au BlackNorth Initiative Summit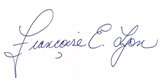 Françoise Lyon
Présidente, IWF Canada